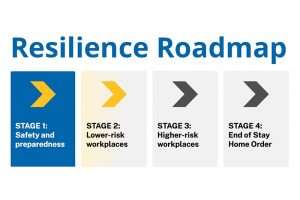 Lower-risk workplaces and businesses such as clothing stores, florists and manufacturers may reopen today with adaptations as California enters the first phase of Stage 2 of the Resilience Roadmap to reopen the state's economy.
In this initial phase, the following businesses may open with modifications:
Curbside retail, including but not limited to: Bookstores, jewelry stores, toy stores, clothing stores, shoe stores, home and furnishing stores, sporting goods stores, antique stores, music stores, florists. Note: this will be phased in, starting first with curbside pickup and delivery only until further notice.

Supply chains supporting the above businesses, in manufacturing and logistics sectors.
Later in Stage 2, the following businesses may open:
Destination retail, including shopping malls and swap meets.

Personal services, limited to: car washes, pet grooming, tanning facilities, and landscape gardening.

Office-based businesses (telework remains strongly encouraged).

Dine-in restaurants (other facility amenities, like bars or gaming areas, are not permitted).

Schools and childcare facilities.

Outdoor museums and open gallery spaces.
Stage 2 will be expanded gradually, with some communities moving through Stage 2 faster if they are able to show greater progress. Counties that have met the readiness criteria and worked with the California Department of Public Health can open more workplaces as outlined on the County Variance page. Read More