Susanne T. Stirling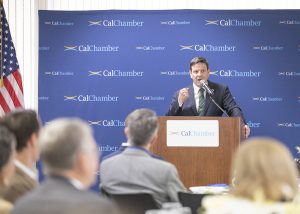 Dr. Matt Beech (pictured left), founding director of the Centre for British Politics, senior fellow at the Institute of European Studies, UC Berkeley

Brexit is the latest phenomenon in the western world presently characterized by shock and schism, a leading scholar explained yesterday at the California Chamber of Commerce.
"Brexit is the most profound crisis that Europe has had since the end of the Second World War," Dr. Matt Beech, senior fellow at the Institute of European Studies at the University of California, Berkeley, told nearly 100 guests at the CalChamber International Luncheon Forum. The luncheon was sponsored by Suburban Water Systems, a CalChamber member.
Dr. Beech provided attendees with an analysis of the potential implications for the United States and specifically, trade in California, with Britain's potential withdrawal from the European Union.
He compared Brexit to an iceberg, something that can't be understood until you're up close and personal with it.
"Brexit I think is very much like that tip of the iceberg. We see political, economic, and social shock and disruption…but beneath the water line of the iceberg which is Brexit is a profound conflict about culture, the like of which we've not seen in recent memory," Dr. Beech said.

Read More